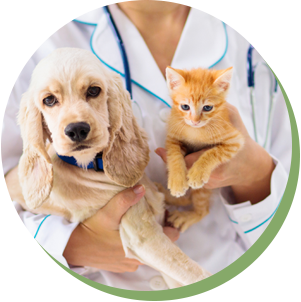 We're on a mission: Healthier pets and happier people across Northeast Ohio
Since 2014, we've connected pet owners in need with 63 regional veterinarians, who have helped pets in need with $350,232 in vet care.
Money raised for One Health Organization supports pet parents. Funds turn into Vouchers that can be used to pay for visits to our Veterinary Partners.
In Northeast Ohio, there are about 112,000 households that qualify for Vouchers from One Health Organization. That means hundreds of thousands of pets might not be getting the quality housing, food, and medical care they need.
One Health Organization connects pet owners with the information and financial help they need. Donations make vouchers. Vouchers make healthier pets.
Our Impact: Healthier Pets
We only have healthier pets and happier pet owners because of generous community members. The number of Vouchers offered each year is directly impacted by the amount of charitable support we receive. Since 2008, Dr. Anna dreamed of a way to help all Northeast Ohio pets get the medical care they need. We launched the One Health Organization Voucher Program in 2014 to provide Vouchers to eligible pet parents. Because of our partnerships with local veterinary clinics, pet parents can use these Vouchers like cash at participating locations.
How Your Donations Make a Difference
Since 2014, we've provided:

1,709 veterinary care visits for dogs

879 veterinary care visits for cats

1,810 households with economic relief
Helpful Resources for Pet Parents
We know that it can be challenging to keep yourself and your pet healthy. Low income pet parents love their pets. But sometimes, they can't pay for top-notch veterinary care.
Our mission is to help pet parents keep their furry friends healthy and happy at home. We provide:
information
connections
financial help
When we help a pet parent, they become a One Health Family Member. Here's what some of our One Health Family Members have to say:
"Over the course of nine months, I lost my husband, my daughter, and my dog. It was like all the lights went out in my life. … After a little while, I ventured out to the shelter, and there was Chloe. No one wanted her, but I did. We rescued each other. She's my best friend and gives me something to live for." – Kathy K
"Your Voucher program helps me and my kitty, Romeo, very much and gives me a feeling of security …" – Gregory
"Now that I'm living on a fixed income, it became harder to visit the vet. My vet recommended getting Vouchers from One Health Organization, and I must say it has been a blessing. I am able to get annual visits with my vet, which has Ebony up-to-date with her vaccinations. Thank you so much." – Shirley M
"Thank you so much for helping Kida. She is being trained to help me. One Health [Organization] is a blessing. I don't know what I would have done without your help." – George S.
Together We Can Have Healthier Pets
You can make a dog or cat's life better. You have the power to help a pet stay happy and healthy at home — and give pet parents like Kathy, Gregory, Shirley, George, and Irene a loving bond with a healthy pet.
Every person deserves a loving bond with a healthy pet. Help pets and pet owners in need by donating today.