We all want our pets to be healthy. And our pets' health is affected by our own wellbeing. At One Health Organization, we love helping pets and people stay healthy together through our programs to support people and pets in need.
But keeping pets and people healthy takes a wide range of services and supports. So we've compiled the following list of Northeast Ohio pet resources to help you keep your pets healthy at home. We hope you find it helpful!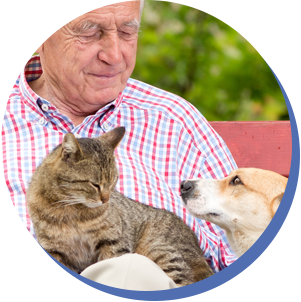 If you don't find what you need below, here are some steps to take:
For questions about the health of your pet, contact your veterinarian.
For questions about your own health, contact your physician.
If you have suggestions for topics to add to this page, send them to us via our Contact form.
A few disclaimers: While this list is geared toward Northeast Ohio, some services may not be available in all counties or to all residents. Also, One Health Organization can't be held accountable for the services provided by outside organizations. Please call them for additional information about their services.
Download our Pet Parent's Guide to Caring for Your Dog or Cat to learn how to choose and care for a pet that suits your family, lifestyle, and living situation.
Download our guide to Helping People with Pets in Need in Your Community to learn how you can get involved in the social justice issue of eliminating barriers to pet ownership.
If you're looking for a veterinarian in Northeast Ohio, visit our interactive vet locator page:
If you want a monthly informational newsletter delivered to your email once monthly:
If you want to subscribe to get information about keeping you and your pets healthy at home: