Pets and People Belong Together
If you are a pet parent, you know how rewarding and challenging these relationships can be.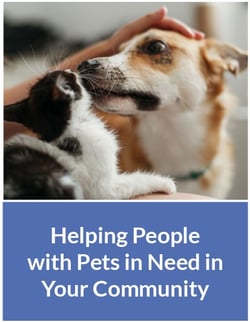 For some people, animals are even more than companions or family members; they rely on them to support their mental and physical health. But significant social and economic barriers prevent many people from being able to reap the benefits of these important relationships.
This guide will help you learn more about:
Why pets are important for our mental and physical health
How pets improve the lives of seniors
How to help keep pets out of shelters and in forever homes
Ways to help in your community
If you've ever wondered how you can get involved in the social justice issue of eliminating barriers to pet ownership, this guide is for you.
Download Helping People with Pets in Need in Your Community today. And congratulations on taking this important step.
DOWNLOAD YOUR FREE GUIDE TODAY
Pets & People, Healthy at Home.